September 2012
The new stud season is well underway with new foals arriving and some exciting babies planned for next year. Gar-Won Rhema's first foals for our stud are due soon and we are eagerly awaiting his babies out of Woodview Kalistar, Woodview Belle and Otway View Liana.
Millbrae Orlando is currently on lease to Alisha Benedict and we wish her all the best with him. Orlando has settled in well and and Alisha already loves having him around.
January 2011
Our website has been updated with all of our sales ponies listed on the sales pages. We are currently having a New Years sale and prices have been reduced for a short time. Please phone or email if you would like more information about any of the ponies.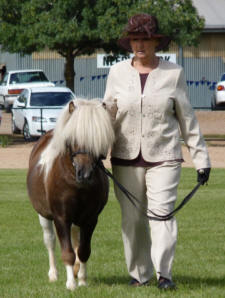 We had a last minute 2010 arrival at Woodview Stud with Braevilla Crystal surprising us with the early arrival of a black colt by Millbrae Orlando on New Year's Eve. That leaves us just waiting on Otway View Liana to finish off our foals arriving for this season.
Woodview ponies enjoyed success at the recent Vic All Shetland Show. Woodview Summer Fantasy was awarded Champion broodmare with her gorgeous and cheeky foal at foot. Fantasy is owned and prepared by the Centrone Family. Woodview Lilyana was second in a strong 3yo filly class and was prepared for the show by Andrew James. Woodview Harlequin (pic right) won his 3yo colt class and was so well behaved. Our next show will be the Victorian APSB Stud Show.
November 2010
The filly fairy has been a frequent visitor to Woodview Stud over the past few weeks. We have been blessed with 6 new arrivals - ALL FILLIES!! Millbrae Orlando has done very well for his first season here and produced 5 fillies including 2 very well marked chestnut skewbalds. Sadly Woodview Belle's black filly died at only a few days old. The Garraway family from Melbourne have purchased Woodview Kiss'N'Tell. Kiss'N'Tell is the first foal from Woodview Kalistar & is by Millbrae Orlando. We wish them the very best for the future with her and look forward to seeing her out and about in the show ring.
July 2010
We have a few new faces here at Woodview since my last update. Torrieburn Ebony Star joins us from Tasmania and will hopefully join our show team, Ebony is 10hh and is in foal to Lerwick Rebellion, a bay skewbald. Woodview is currently leasing the young piebald stallion, Colvadale Reflection for the breeding season, while Glen Arden Stud is leasing our piebald, Woodview Legend.
In other news, Woodview Tequila is coming home for my grand-daughter Maddie to show this season after being part of Andrew James' show team. She has been broken to saddle and harness by Andrew, who will be continuing to lease and show Woodview Lilyana. Thanks to Andrew and his 2 young strappers Tarni and her sister for doing such a great job with them both last show season.
Also returning home to Woodview Stud is the lovely black broodmare, Millbrae Style. Style was previously sold to NSW but has fortunately returned to the stud after we sadly lost her daughter, Woodview Stylist last year. Woodview Trinket is also returning home after being on lease to Jenssel Park Stud in NSW. Trinket has been running with Shady Glen Julian and we are eagerly awaiting her new foal!
February 2009
Congratulations to the Centrone Family on winning Champion Shetland Mare at the recent Barastoc HOTY Show with Woodview Summer Fantasy. Summer Fantasy has been enjoying great success in the showring recently and this is a well-deserved culmination of her show season!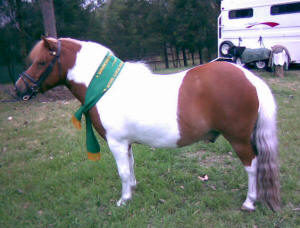 November 2008
More great show results from Chelsea Batchelor. Woodview Kalipso (pictured right) was awarded Reserve Champion Led Gelding at the recent APSB National Stud Pony Show in Sydney. Congratulations!
We have also welcomed a new small Shetland broodmare this month. Sankur Seraphina is an 88cm piebald mare and she is currently running with Kanimbla Blackwatch for a 2009 foal.
August 2008
The filly fairy paid an early visit to Woodview Stud this season with the arrival of a tiny chestnut filly on the 7th of August. Woodview Caramia is the first foal for our stud by Kanimbla Blackwatch and is out of The Golden Meadow Chloe. She is a gorgeous foal and already shows a very cheeky personality. Look out for this one at the foal shows next winter! Sadly it is not all good news with Woodview Summertime losing a lovely big chestnut and white filly. Thankfully Summer is safe and well. We are still expecting a few more foals this season and they will be added to the Foal page as they arrive.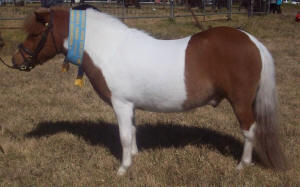 Some great show news from Chelsea Batchelor, owner of Woodview Kalipso (Redacres Simon x Woodview Kahlua), a 3yo gelding just commencing his ridden show career. Kalipso attended the recent Sydney APSB Show and was awarded Reserve Led Shetland Gelding, Champion Led Non Black Shetland Junior, and Reserve Champion Ridden Shetland, ridden by Mikayla Towers. Congratulations to them all and we wish them continued successes this season. (pictured right)
April 2008
Woodview Stud had a fantastic show at the recent NE Border Group Foal Show at Tatura. We entered 3 of our foals and it was the first outing for all of them. All three were very well behaved and achieved great results. Our lovely taffy skewbald colt, Woodview Harlequin, won the colt over 8.2hh class before taking out the Champion Shetland Foal over 8.2hh award. Our black filly, Woodview Lilyana, won the big filly class, with Woodview Tequila being third in the same class. Lilyana stood Reserve Champion to Harlequin. We ended the day on a high note with Woodview Harlequin being awarded Grand Champion Shetland Exhibit.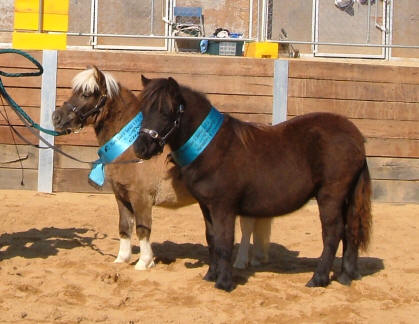 January 2008
The 2007 foaling season was a busy one with all of the Woodview foals arriving between August and September. It started off on a sad note with Glengoram Park Gypsy losing a black colt foal by Thorpeville Dallas-Joe at only one day old. However, we were fortunate to then have 2 lovely fillies by Dallas-Joe out of the always reliable Otway View Liana and a maiden mare, Lerwick Tia. Both fillies will be retained at stud. Millwood Blackberry produced a lovely chestnut taffy pinto colt by Bollingbroke Hamish and he will be offered for sale on weaning.
Our young piebald stallion, Streamville Park Mosaic had his first foals arrive this season also. First up was a piebald filly from Millbrae Starlette. Both Starlette and her filly, Woodview Sparkle have since bee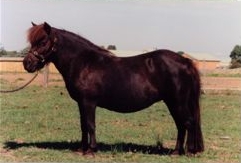 n purchased by Teddywaddy Stud. Next was a first foal for Woodview Spring - a piebald colt to be named Woodview Shadow. Unfortunately, Burrabong Brooke (right) had an extremely difficult foaling and lost a piebald colt also by Mosaic. Tragically we also lost Brooke a few days later as a result of complications from the foaling. Brooke was a gorgeous mare who was shown successfully in her younger days and produced some lovely foals for us here. Her daughter Woodview Belle has been retained at stud. Brooke will be sadly missed. RIP
Due to our need to reduce numbers, we currently have on offer a great selection of quality ponies - all of which can be viewed on the sales pages. There is a wide selection on offer, from an 8hh APSB/AMPS filly, to our beautiful imported-bred Quarter Horse mare. Also included in our sale are several breeding stallions, and some quality Shetland and Riding Pony saddle ponies. Feel free to contact us by phone or email for more information on any of the ponies, or to arrange a time to inspect them. Visitors are always welcome.
Among our recent sales are two quality piebald mares:- Woodview Kahlua, who has been sold to NSW as a child's saddle pony, and Woodview Summer Storm, who will also make her way to NSW to join Tania Salkovic's Ravensview Stud.